S.R. RANGANATHAN IS CORRECT -- ADD 100 POINTS TO YOUR SCORE!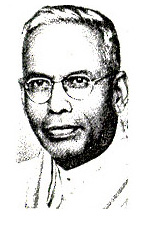 Shiyali Ramamrita Ranganathan
9 August 1892 - 27 September 1972
---
Considered the father of library science in India, his contributions to the field continue to have world wide influence. Having already embarked upon an academic career in mathematics, Ranganathan was appointed as first Librarian of the University of Madras in 1924, a post he would hold for 19 years.
Ranganathan made significant, enduring contributions to the field as an innovator, an author, and as a philosopher. Notable innovations include his Colon Classification(1933)-- which introduced a system that is used internationally in research libraries -- and his technique of chain indexing for deriving subject-index entries.
In addition to his Colon Classification, Ranganathan was a prolific author. Important works include Five Laws of Library Science(1931),Classified Catalogue Code(1934), the monumental Prolegomena to Library Classification(1937), Elements of Library Classification(1945), and Headings and Canons(1955), among many others. Each work rendered by Ranganathan would prove influential; his Headings and Canons is credited with shaping the Anglo American Cataloguing Rules of 1967.
During his nearly twenty year tenure as librarian at the University of Madras, Ranganathan never took a single day's leave. His inexhaustible energy was fueled by deep seated philosophical convictions about the role of library science, which he perceived as the path toward "the development of an atmosphere of peaceful co-existence among nations . . . and the evolution of One-World." From his text of 1931 have been extracted the mantra for the profession, his "Five Laws," simple, inspirational, and ever undiluted by time:

                        1.  Books are for use.
                        2.  Every book its reader.
                        3.  Every reader his book.
                        4.  Save the time of the reader.
                        5.  A library is a growing organism.

These laws formed the basis for Ranganathan's entire career, all his innovations, writings, and his missionary zeal. Awards, titles, honor, international acclaim all deservedly befell Ranganathan before he passed in 1972. He remains a librarian/mathemetician whose value can never be properly calculated.
---
YOU HAVE CONTROL OF THE BOARD. CLICK TO
GO BACK TO THE GAME
Last updated 0950 DST, Sunday, 19 April 1998.