Santo contra Blue Demon en la Atlantida
[Santo vs. Blue Demon in Atlantis]
(Prods. Sotomayor, 1968)
Exec Prod: Hebert Dávila Guajardo; Prod: Jesús Sotomayor Martínez; Dir: Julián Soler; Scr: Rafael García Travesí ; Story: R. García Travesí , J. Sotomayor Mtz; Photo: Raúl Martínez Solares; Music Dir: Gustavo César Carrión; Prod Supv: Miguel Sotomayor Mtz.; Prod Chief: Armando Espinosa; Asst Dir: Manuel Muñoz; Film Ed: José Bustos; Decor: Carlos Grandjean; Camera Op: Cirilo Rodríguez; Lighting: Horacio Calvillo; Sp Photo FX: Raúl Martínez Solares; Makeup: Dolores Camarillo; Sound Supv: Jaime [sic] L. Fields; Sound Dir: Galdino Samperio; Dialog Rec: Luis Fernández; Sound Ed: Raúl Portillo; Union: STPC
CAST: Santo (Santo), Blue Demon* (Blue Demon), Jorge Rado ("Aquiles" =Hugo Ulrich), Rafael Banquells (Prof. Gerard), Agustín Martínez Solares [hijo] (Pierre Duval), Silvia Pasquel (Juno), Magda Giner (X-25 aka Circe), Rosa Ma. Piñeiro (Afrodita aka Renata), Griselda Mejía (Regina), Marcelo Villamil (chief of world security), Carlos Suárez (Arena doctor), Juan Garza (Orfeo), Héctor Guzmán (Poseidon), Olga Guillot (herself--TV singer)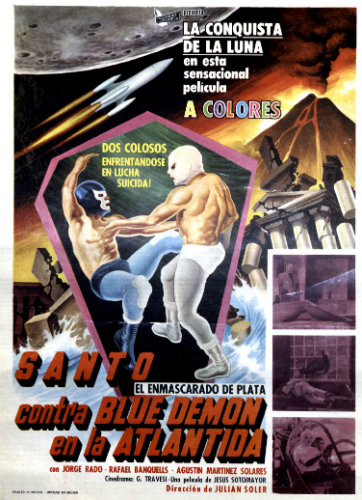 *on the end credits, Alejandro Cruz (the wrestler also known as "Black Shadow") is billed as "Blue Demon." It's difficult to tell, but Blue Demon looks just like Blue Demon. Perhaps there was some confusion when the credits were made with Santo y Blue Demon vs. los monstruos (shot immediately after this picture wrapped), where Cruz is billed as "Blue Demon" again, but in this case--I think--he played the "bad" Blue Demon (a double created by a mad scientist). Or maybe the real Blue Demon just couldn't make it for these two films?
Mexico City release: July 1970; 4 week run; Authorization: A
Spanish release data: Authorization date: 26 December 1973; Rating: children under 14 must be accompanied by an adult; Total spectators: 208,290.
NOTES: Moderately-entertaining science fiction thriller, which seems to have been inspired by the James Bond picture You Only Live Twice (1967). Rafael García Travesí returns to his use of character names taken from mythology--just as in Santo vs. la invasión de los marcianos, and with as little justification. If Martians could have names like "Argos" and "Afrodita," why not left-over, immortal Nazis? The film makes liberal use of stock footage from several sources --Monster Zero, Atragon, and Godzilla vs. the Sea Monster, three Japanese films, have been cited as contributing some of their special effects to the mix (Raúl Martínez Solares is credited with "special effects in the camera," presumably the couple of lap dissolves at the end of the picture when Jorge Rado and Silvia Pasquel suddenly turn old and wrinkled). Prods. Sotomayor, as they did in Santo y Blue Demon vs. los monstruos, shoehorn in a musical number taken from an older film: in this case, black & white footage of singer Olga Guillot, shown on a TV set, which Santo watches patiently. The family ties in this picture are also worth commenting on. Of course producer and production supervisor Jesús and Miguel Sotomayor Martínez were related (exactly how, I don't know); director Julián Soler didn't have any of his famous brothers around, but other family ties include: cinematographer Raúl Martínez Solares and his nephew, Agustín Martínez Solares hijo, and Rafael Banquells and his daughter, Silvia Pasquel (her mother was Silvia Pinal, who had been through several husbands since Banquells by the time this picture was made).
Former Nazi scientist Hugo Ulrich--now calling himself "Aquiles," in homage to the ancient Greeks whom he reveres--threatens the world with a nuclear holocaust unless he is acknowledged as the big boss. If he gets his way, the inferior peoples will be enslaved by his new master race. The world security organization learns that Professor Gerard has invented a device that will nullify Aquiles' threat, but Gerard has to be kept alive in order to put the plan into effect. Only secret agent Santo knows Gerard's identity and whereabouts. Aquiles sends some of his agents from his secret, underwater headquarters, to locate Gerard.
In the middle of a wrestling match with Santo, Blue Demon is drugged and kidnaped by Aquiles' men. Blue is taken to the hideout and, when he refuses to join the new master race, is hypnotized by a big flashing disco ball and sent back to the surface to fight Santo. In the meantime, Santo learns that secret agent Pierre Duval is a traitor (they have a long and pretty good fight--punctuated by some tussling with a brunette in a baby-doll nightgown, who is also one of Aquiles' spies, and who gets shot by mistake). Duval takes a high dive out of the window of Santo's apartment.
Santo and Blue Demon tangle several times. Santo is aided by blonde agent X-25, who eventually reveals herself to be Circe, one of Aquiles' flunkies. Taken to the underwater hideout, Santo is hypnotized and sent back to find Gerard. The evil Santo wrecks Gerard's lab--only it isn't Santo, it's an impostor, who fights the real Santo and is killed. Santo explains that Juno, one of Aquiles' followers who has switched sides, kept him from being hypnotized and helped him escape. However, now that Gerard's equipment is ruined, they have to go back to Aquiles' headquarters and blow it up in order to prevent the holocaust. Blue Demon is de-hypnotized by Gerard and joins them.
Eventually, the two masked wrestlers, Juno, and the scientist get into the underwater city and plant the bomb. Aquiles gives the order to fire the missiles (one of which has Japanese writing on it--more stock footage); he gets ready to drop a big bust of some Greek guy on Santo's head, but Blue Demon spears him with a javelin. Aquiles turns old and wrinkled as he dies. Juno is mortally wounded saving Santo, and she gets old and dies. Santo, Blue Demon, and Gerard escape as the underwater city blows up (courtesy of some elaborate stock footage, including one shot in which somebody--possibly some sort of priestess--who's not even in the rest of the film can be seen).
Despite the stock footage--which is pretty obvious but is actually fairly well-integrated into the picture as a whole, and to tell the truth really raises the overall level of production!--Santo contra Blue Demon en la Atlantida is generally entertaining and well-paced. The fight between Santo and Duval is unusually brutal and well-choreographed, in contrast with the clumsy pummeling that often occurs in these pictures (and can be seen in the climax when Santo and Blue Demon start smacking around Aquiles' henchmen, all burly wrestler-types in black shirts). Of course there are some logical flaws (not just in the basic premise or plot, but even accepting these as givens, there are problems in the details that just don't make sense), but the film is colorful and not boring. Now if we could just solve the mystery of that strange credit: "Blue Demon...Alejandro Cruz"!!
---
Revised 21 April 2003 by dwilt@umd.edu