Santo y Mantequilla en la venganza de la Llorona
[Santo and Mantequilla in The Vengeance of the Crying Woman] (Cin. Calderón, 1974)
Prod: Guillermo Calderón Stell, Santo; Dir: Miguel M. Delgado; Scr: Lic. Francisco Cavazos; Photo: Jorge Stahl [Jr.]; Music Dir: Gustavo César Carrión; Prod Mgr: Carlos Suárez; Prod Chief: Jorge Cardeña; Sub-Dir: Jaime L. Contreras; Film Ed: Jorge Bustos, José W. Bustos; Art Dir: Salvador Lozano Mena; Decor: Carlos Arjona; Makeup: Carmen Palomino; Sound Supv: James L. Fields; Sound Ed: José Li-Ho; Dialog Rec: Javier Mateos; Re-rec: Ramón Moreno; Union: STPC
CAST: Santo (Santo), [José] "Mantequilla" Nápoles (himself), Kiki Herrera Calles (doña Eugenia Esparza), Alfonso Castaño (Prof. Esteban Lira) René Cardona Sr. (Severo Segovia), Ana Lilia Tovar (Lilia), Sonia Cavazos (Sonia), Carlos Suárez (one-eyed henchman), Marcia Montes (devil's envoy), Alejandra Murga (Martita), Jorgito Rodríguez (Carlitos), Enrique Llanes (announcer), Jorge Guzmán, Sonia Fuentes, Kid Rapidez (Mantequilla's trainer), José Rojas (referee), Roberto Y. Palacios (Prof. Alvarez), Octavio Menduet and Alejandra Meyer (victims), El Greco, Tony Salazar, Marco Antonio Arzate, Alfonso Romero, Ismael Ramírez, Estebán Vilchis, Armando Estrada, Angel Aguilar, Memo Rubio, Reyes Oliva, Roberto Vázquez
Mexico City release: August 1974; 2 week run; Authorization: A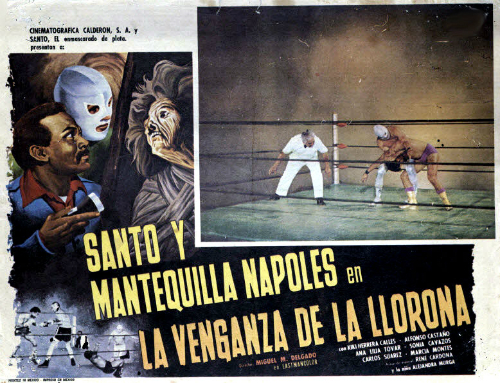 NOTES: This is one of the mid-range (in terms of entertainment value, not necessarily production values or coherence) Santo vehicles, not in the top rank but better than some of the worst. The odd thing about this picture is that Santo (and his sidekick, boxer Mantequilla Nápoles) never interact directly with the film's "monster," La Llorona. In fact, Mantequilla remarks upon this at the end, saying he wishes he could have seen her! Instead, the two heroes spend their time fighting the burly henchmen of Severo Segovia (René Cardona Sr., looking very devilish with gray hair and a goatee, and seemingly enjoying his role). This is a bit of a let-down, although it would not have been gentlemanly for Santo and Mantequilla to tussle with a "female" monster (however, it is doubtful if actress Kiki Herrera Calles, or any woman for that matter, actually played La Llorona in makeup--the makeup isn't bad, actually). Another irritating point is the presence of two "cute" children, including one (Alejandra Murga) whose dialogue is dubbed by an adult trying to sound like a little girl. For those who keep track, the wrestling (and one boxing) matches included in the film are all "studio" bouts (the announcer says they are taking place in a ring specially constructed in "studio B" of the TV station).
Professor Lira asks Santo to help him enter the tomb of doña Eugenia Esparza and take a medallion from her body; the medallion contains a map which shows where a treasure in gold coins is located. Santo refuses, until Professor Lira explains:
During the colonial period, Eugenia made a deal with the Devil (represented by a female emissary who dresses in black and has odd eyebrows, but otherwise looks normal). Eugenia has found out that her lover, with whom she has three children, is planning to marry someone else. Eugenia wants to punish him, so she is going to poison her children (the Devil's emissary gives her the poison) and kill herself; then her lover will be arrested for stealing money that belongs to the crown (Eugenia has hidden it away), and he will be executed. However, Eugenia gets assurances from the satanic envoy that--if her faithless lover beats the rap--she can return from the grave and get revenge.
Professor Lira tells Santo that Gonzaga (Eugenia's lover) was acquitted of stealing the treasure (although it was never found), and doña Eugenia periodically returns as "La Llorona" to kill the first-born children of Gonzaga's descendants. Next in line is Carlitos, Lira's nephew. Lira tells Santo that the treasure will be turned over to a children's charity, and thus the spell of La Llorona will be broken. Santo agrees to help. His friend, boxer Mantequilla Nápoles, wants to come along.
However, Lira's unscrupulous assistant Alvarez has informed Severo Segovia, leader of a band of crooks, of the treasure. The crooks trail Santo, Lira, and Mantequilla to the cavern where doña Eugenia's coffin is hidden. Lilia and Sonia, Lira's nieces, also follow. Lira takes the medallion from the mummified corpse of doña Eugenia, but Lilia and Sonia are accidentally sealed in the cave with the body, which suddenly revives! The young women are freed; as Lira is going back to the car, Segovia's men assault him and try to steal the medallion, but Santo, Mantequilla, and--unseen by them--La Llorona intervene.
La Llorona sets out to kill various Gonzaga descendants. In the guise of doña Eugenia, she takes up residence next door to Professor Lira and befriends Carlitos and his little sister Martita. Alvarez steals the medallion and sells it to Segovia (and is shot in the back for his trouble), but Segovia can't decipher the map, so he hands it over to Santo when the wrestler and his boxer friend break into Segovia's hideout. La Llorona strangles Professor Lira.
Santo and Mantequilla locate the treasure inside an old house (which has conveniently not been knocked down or occupied since the colonial period). They have to fight their way through Segovia's henchmen to escape with the chest of gold and jewels. Meanwhile, la Llorona prepares to kill Carlitos and Martita. But, when the treasure is handed over to charity, la Llorona disappears.
Not really bad, nor especially good.
---