La noche de San Juan aka Santo en Oro Negro
[Night of San Juan--Santo in Black Gold]
(Jorge Camargo, 1975) Prod: Jorge Camargo; Dir/Scr: Federico Curiel; Story: David Sergio Pérez Gallardo, Carlos Suárez M.; Photo: J. Antonio Ruiz Juárez; Co-Prod: Juan Mariano Ruiz Noriega; Prod Chief: Damián Rosa; Prod Mgr: Antonio Rodríguez (Mexico), Adalino Sánchez (Puerto Rico); Sub-Dir: Luis Quintanilla; Film Ed: Max Sánchez; Camera Op: Lorenzo Contreras; Sound/Re-rec: Ricardo Saldívar; Makeup: Lula's Beauty Salon; Division Color
Cast: Santo (himself), Rossy Mendoza (Marta Cristal), Luis Daniel Rivera (Octavio Landa), Gilda Haddock (Vanessa del Valle), Colón Riozama (Darío), Carlos Suárez (Enrique Artigas), Roberto Rivera Negrón (Inspector Carlos Cabral), José Grajales hijo, Federico Curiel (board member), Luis Quintanilla (Robles, board member), Carlitos Colón (wrestler), Marggie Noriega,Ana María Prevlon, Jimmy Bou, Orlando Rodríguez (robot "doctor" in prison), Tigre Pérez, Ismael Ramírez, Roberto Arundel, Manuel Codazos, Ivonne Nabanjo, D.E. Jarvela, Barrabas, Sonali Dávila, Sandra Rosa, Alfonso Fonseca, Jorge Ramos, Armando Gutie, Huracán Castillo, Maravilla, Castro Salvaje, Los Rancheros de México (mariachi band)
Mexico City release: February 1977; 2 week run; Authorization: A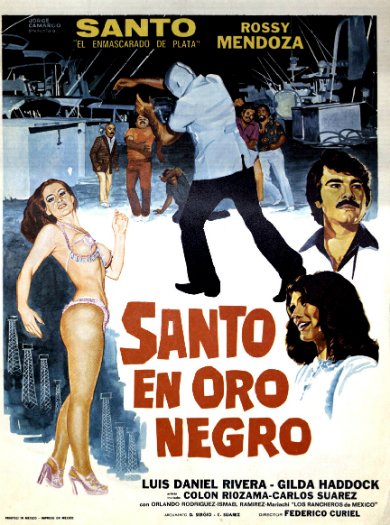 Notes: Although reference books list this film as Santo en Oro Negro, the movie itself has two, successive titles on screen: first La noche de San Juan, and then Santo en Oro Negro. Both titles are done in the same graphic style, so it does not appear that one was added later on. And both titles are alluded to in the film itself (Gilda Haddock, who owns oil wells, is referred to as the "queen of oro negro," and Santo tells Rossy Mendoza that he will "never forget the night in San Juan"). [Note: In fact, I now have posters--otherwise identical--with each of the variant titles.]
From a secret base located inside a Puerto Rican prison (!) orders go out by radio (ironically, the consoles in both "secret radio rooms" have turntables, presumably so the terrorists--as they describe themselves!-- can listen to music in their spare time) to New York City to begin "Operación Oro Negro." In NY, a man forces his way into the board room of a large corporation, headed by Vanessa del Valle. The intruder says he represents a terrorist organization run by Acuario, and unless the corporation pays a "tax" on every barrel of oil they produce, their oil installations will be sabotaged. When the police try to seize the man, he leaps out of a window, plummeting to his death, many floors below. Except, he wasn't human--his shattered corpse contains various wires and transistors instead of blood and guts. Two members of the board of directors [one is Federico Curiel, and the other is Luis Quintanilla, a veteran production manager, producer, and later director] go to Mexico and ask Santo for help. They promise to pay him a royalty on each barrel of oil they produce, if he will help them. The money will help feed hungry children in the world. Santo agrees. But first, he wrestles Rebelde Rojo. [Note: Rebelde Rojo was later unmasked and became known as "Charles Bronson Mexicano" in the ring. He appeared in a number of Mexican films with El Santo--the first "disguise" El Santo wears in Oro negro looks a lot like this other wrestler, but I can't be sure.]
In New York, Enrique Artigas visits Vanessa. He is an old friend (emphasis on "old") of her late father, and has helped manage her fortune. But now he wants some romantic payback, and Vanessa isn't interested. Suddenly several men break in, slug Artigas, and kidnap Vanessa. A few moments later, she reappears, having eluded her captors.
In Puerto Rico, Santo lays out a wide selection of life-like rubber masks (and rubber hands--why?). Choosing one that resembles Charles Bronson, he goes out to the "El Sombrero" nightclub, where the buxom Marta Cristal sings a number. Later, Santo (wearing his silver mask now) and Marta stroll along the beach at night. They are assaulted by a group of men; Santo takes care of some, while Marta--stripped to her very scanty underwear--puts some martial arts moves on another. The assailants flee, leaving Santo and Marta in a romantic clinch.
The police assign Octavio to assist Santo on the case. Santo asks him to find the source of a piece of cloth he tore off the clothing of one of the attackers. Meanwhile, Artigas and Vanessa decide to travel to Puerto Rico to see Santo about their case.
Santo, disguised as a priest, goes to the local prison. When he enters one cell, the guard and inmates slug him and carry him through a secret passage to the terrorists' headquarters in another wing. A white-coated scientist and two terrorists rough him up, demanding information. Santo doesn't tell them anything, but he says "You aren't human beings. Who is the brain who controls you? Are you programmed to answer?" Oddly enough, they are. They tell him Acuario has built 200 robots, and that the prison warden is unaware of their hidden facility. A message comes in that Santo is involved in the case. "Where is Santo?" they demand. "Right here!" Santo shouts, breaking his bonds and attacking them. He peels off the priest-face, revealing his silver mask underneath [he took off his silver mask to put on the Bronson-face, but apparently not this time. Must have been hot under those two masks!]. Santo manages to defeat the robots (spraying one with a fire extinguisher, for some reason), then puts a timer on a big pile of explosives, runs for a long time to get outside, and then the terrorists' headquarters blows up real good (stock footage). Santo reassures the warden: "No human beings were killed."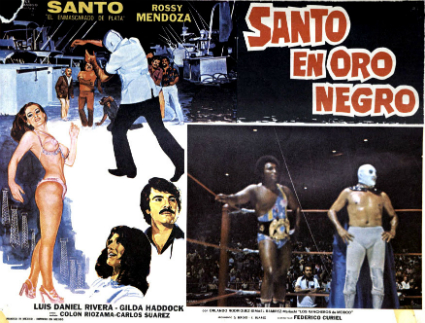 Santo and Puerto Rican wrestler Carlitos Colón wrestle Rebelde Rojo and another bad guy wrestler, in a Puerto Rican ballpark. Artigas and Vanessa are in the audience. Later, Santo goes to Vanessa's home, but discovers she is actually a robot herself. The real Vanessa is a prisoner of Acuario, who is Artigas. Marta shows up, wearing a halter top and miniskirt, and battles the robot Vanessa, while Santo takes on some male robots (with stockings over their faces, for some reason). Marta whacks the Vanessa-robot, Artigas flees. Santo says he figured out Vanessa was a fake because he asked her a question about a painting on the wall, and "electronic vision can't distinguish between white and red."
Back at the nightclub, Marta does a song and dance number in a very scanty costume [Note: García Riera says this was cut in Mexico so the film would get an "A" rating (all audiences), and in fact a Mexican-made video that I own omits this scene! Mendoza hardly moves at all, doing a few lame dance steps and spins to show off her abundant physical attributes which are barely concealed]. Santo and Octavio go back to her dressing room: Marta is Santo's other agent working on the case (surprise!). She tells them that the prisoner (Darío) who was Acuario's contact has escaped; he is apparently an old acquaintance of hers, because he asked her to go away with him on his yacht.
Santo and the others go to the yacht club. Santo frees an old man, who turns out to be Vanessa's father--he wasn't dead, Artigas was just keeping him prisoner. After a long running battle and chase, Santo finally corners Artigas: "You're an electronics genius but you forgot that a revolver only has 6 bullets." As the film ends, Santo collects his check for charity, bids Vanessa and Marta goodbye, and departs.
There are a few interesting points in the film: Santo's fake faces are a new twist (although he had impersonated people in some earlier films, notably Profanadores de tumbas) and the rubber masks are not bad (although obviously other people played "Santo" when he was supposed to be wearing the masks). Sexy Rossy Mendoza is a zaftig woman and not at all shy about it. However, she is also presented as a competent secret agent who gets to engage in a couple of rough-house fights. Finally, this film has one of the great credits in a Santo film: "Makeup by Lula's Beauty Salon"!
Santo en oro negro is an adequate picture, although it's cheap and the action scenes aren't very exciting. However, it isn't dull and Gilda Haddock and Rossy Mendoza are nice to look at.
Added notes:
Upon re-viewing this movie, I wonder if any footage was actually shot in New York City. The android messenger apparently drives a dark Mustang through the NYC streets to get to "Midtown 421," a building which has a small sign on the door reading (in Spanish): "Association of Caribbean Petroleum Producers." However, the driving scenes could be stock footage, and the scenes taking place inside the building (and the shot where the android leaps out of the window) do not seem to match the New York setting. [In fact, a clock with "Benítez Associates" can be seen in the background of one shot! And the city skyline viewed through the windows of the office looks more like San Juan than NYC.]

Another curious coincidence: some of the oft-repeated library music in this movie was also used in the Nuyorican movie Love After Death! And Colón Riozama, who receives special billing here--but actually has little to do--starred in another Nuyorican picture, Toño Bicicleta.

Revised 10 January 2008.