Santo contra las mujeres vampiros [English-version title: Samson vs. the Vampire Women]
(Filmadora Panamericana, 1962) Prod: Alberto López; Dir: Alfonso Corona Blake; Scr: Rafael García Travesí, Alfonso Corona Blake; Story: Antonio Orellana, Fernando Osés, Rafael García Travesí ;Photo: José Ortiz Ramos; Music: Raúl Lavista; Prod Mgr: Luis García de León; Prod Chief: Jorge Cardeña; Asst Dir: Ignacio Villareal; Film Ed: José W. Bustos; Art Dir: Roberto Silva; Makeup: Román Juárez; Decor: Ernesto Carrasco; Sound: Javier Mateos, Galdino Samperio; Camera Op: Manuel González; Lighting: Daniel López; Sound Ed: Raúl Portillo; Union: STPC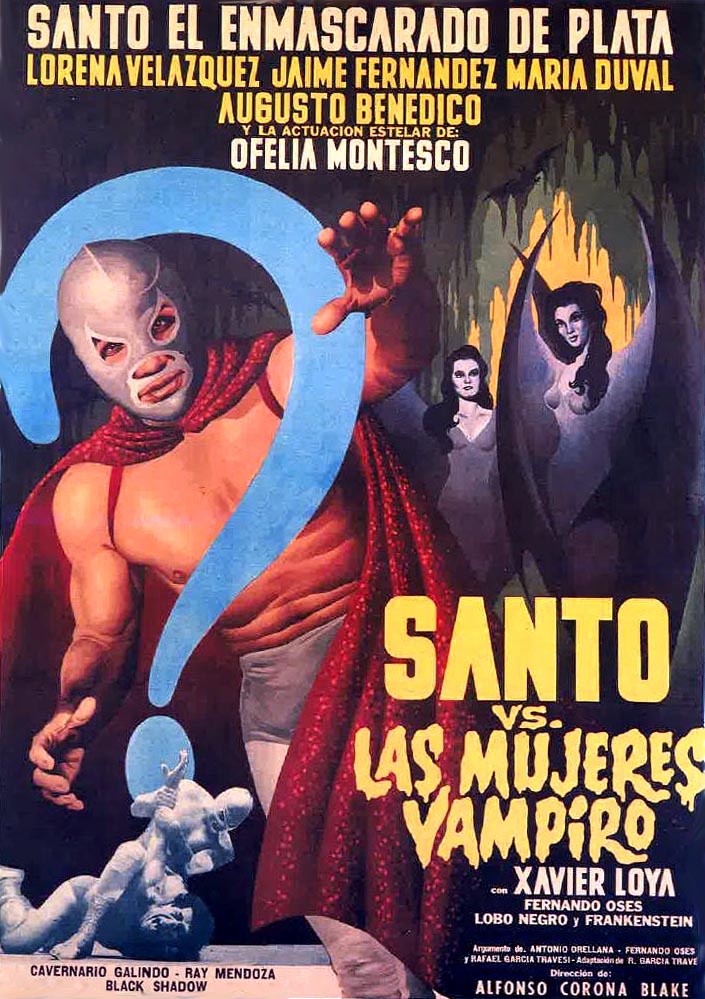 English-language version credits: Prod: K. Gordon Murray; Dir: Manuel San Fernando [note: Fabián Grey is credited for the song, but he only performs it, he did not write it]
Cast: (English-language version character name in brackets, if different from original version): Santo (Santo [Samson]), Lorena Velázquez (Zorina), María Duval (Diana), Jaime Fernández (Carlos [Insp. Charles Andrews]), Augusto Benedico (Prof. Orlof [Prof. Rolof]), Ofelia Montesco (Tundra), Xavier Loyá (Jorge [George]), Fernando Osés (Igor), Guillermo Hernández "Lobo Negro" (Marcus), Nothanael León "Frankestein" (Taras), Cavernario Galindo (himself [Caveman Wellington]), Ray Mendoza (himself [Roz Mendoza]), Black Shadow (himself), Bobby Bonales, Eduardo Bonada, Wally Barron (Santo's corner man), Ricardo Adalid (plainclothes cop at party), Víctor Velázquez (coroner), Laura Marquetti, Javier Samperio, Marco Antonio Arzate, Gonzalo García, Margarito Luna (uniformed cop), José Chávez Agundes, René Barrera (plainclothesman at gate), Jorge Casanova (victim), Miguel Tejeda Santillana, Pedro de la Torre, Carlos Robles Gil (majordomo), Mario Sevilla (servant), "Pícoro" (ring announcer), Fabián Grey (singer), Armando Acosta (waiter)
Mexico City release: November 1962; 2 week run; Authorization: A
Spanish release data: Authorization date: 20 May 1963; Total spectators: 102,938
This film had a long life in cinemas in the USA, playing as early as 1963 and as late as 1972 in Phoenix, AZ (March 1964, October 1966, Sept 1969, July 1970), Fort Worth, TX (April and July 1967), Albuquerque, NM (October 1964), Salt Lake City, UT (March 1965), Vineland, NJ (March 1963), Tampa, FL (November 1965), San Antonio, TX (July 1972), Tucson, AZ (March and April 1964), and Los Angeles (January 1966).
NOTES: This is probably the best-known Santo film internationally. The English-language version was a television staple for several decades, and it was also well-received in France and other European countries at the time of its original release. Although Santo is not the complete center of attention that he would be in later films--for example, he doesn't have any love interest and his "private" life is non-existent--he's still presented as the star of the film (although he doesn't appear until a considerable amount of footage has elapsed), a professional wrestler and crime-fighting superhero rolled into one. The production values are good, some of the sets are well-designed and constructed, the photography is quite slick, and even the special effects (a frequent weak spot in Mexican fantasy films) are satisfactory. There is one nice quick dissolve as Tundra turns into a bat, the old-age makeup for the vampires is effective (although they look more like people who've been burned than really old people), and the scene where vampire muscleman Marcus blunders into the shadow of a cross and bursts into flames is a very good optical effect. The script is decent, without too many inconsistencies and boners.
The English-dubbed version is relatively faithful to the original, although some of the dialogue sounds stilted when translated (and Cavernario Galindo is amusingly called "Caveman Wellington"! The "caveman" part is a translation of Cavernario, but... Wellington?). Interestingly enough, producer K. Gordon Murray leaves in a long song in Spanish rather than dubbing it or cutting it, although it is intermingled with the plot to some extent, so perhaps it was easier just to leave it. It's also amusing to note that the wrestling fans still chant "Santo! Santo!" rather than "Samson! Samson!" Murray's versions of Mexican films are usually pretty good approximations of the originals, even using the original music and the original title backgrounds in some cases.
As the film begins, in the dungeon of an old house (castle), a coffin opens and the aged vampire Tundra awakes. She summons her vampiric retainers, and also revives three male vampires. Tundra and the 3 vampire men regain their youthful appearance. They go out in search of blood to revive Zorina, the vampire queen. It is time for Zorina to join her lord Satan (represented by a shadow on the wall of a figure with big horns and a pointy beard) in Hell (for vampires, this is a good thing), so Zorina's successor must be chosen. 200 years ago, they failed, but now they have a second chance.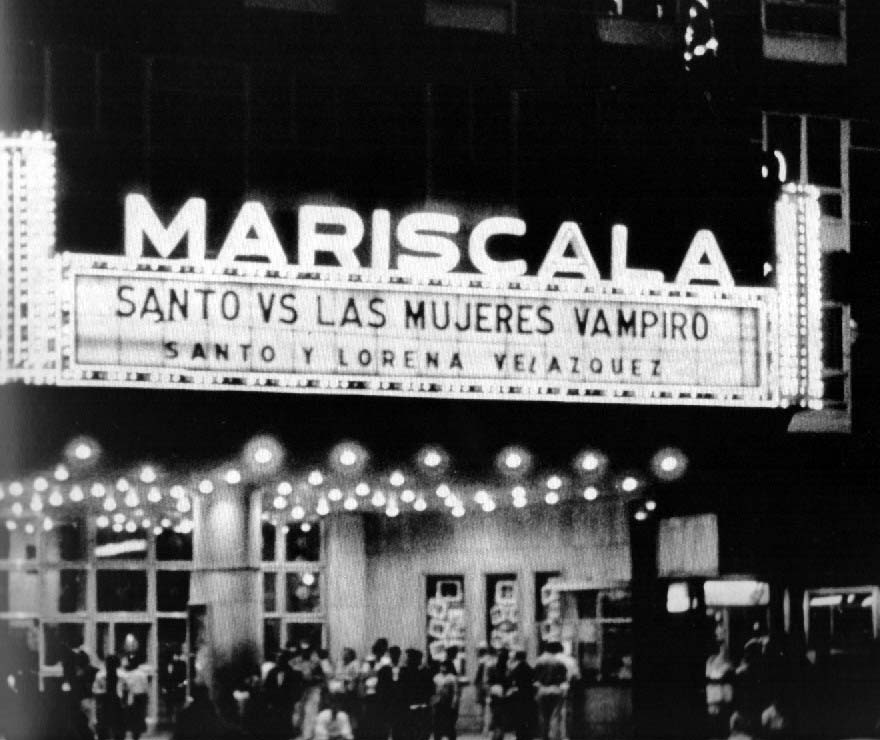 Her successor is Diana, daughter of Professor Orlof. Orlof hints to police inspector Carlos and Jorge--Diana's fiance--that she is in danger, but he won't give them any details (although the bat-shaped birthmark on Diana's shoulder seems like a tipoff). Diana, getting ready for bed, spots Tundra peering in her window--when seen in a mirror, Tundra's crusty old appearance returns--and screams, but her father calms her down. However, he then calls crime-fighter Santo on his TV-phone. Santo isn't home (he's wrestling in a tag team match), so Orlof leaves a message.
Tundra and her henchmen kill a woman and kidnap her escort. A policeman who tries to stop them is hypnotized; he watches Tundra turn into a bat and fly away, but his superiors won't believe his story. Meanwhile, back at vampire headquarters, the victim has his blood drained into a goblet (in a nice touch, Tundra has to remove a live snake from the goblet; she discards the reptile as if it were an annoying speck of dust). Zorina and the other vampire women drink and regain their youthful appearance ( their dusty black shrouds also turn into spotless white gowns).
Santo gets the story from Orlof. He says he won't be able to attend Diana's party the next night (he has a previous engagement at the arena), but Carlos and the police will be on hand. However, Tundra and vampire man Igor kill several guests and steal their invitations. Since it's a masquerade party, their vampire "costumes" aren't out of place. While Tundra distracts Jorge, Igor dances with Diana. Professor Orlof gets suspicious, but Tundra dowses the lights and they escape with Diana, as Marcus and Taras cover their retreat. Santo and the police give chase, causing the vampires to drop Diana so they can turn into bats and escape.
The police plan to stake out the nightclub where the vampires have been picking up their victims, but Tundra is eavesdropping. She reports to the irate Zorina, who vaporizes a couple of Tundra's female assistants to make her point. They have to get rid of Santo and kidnap Diana as soon as possible.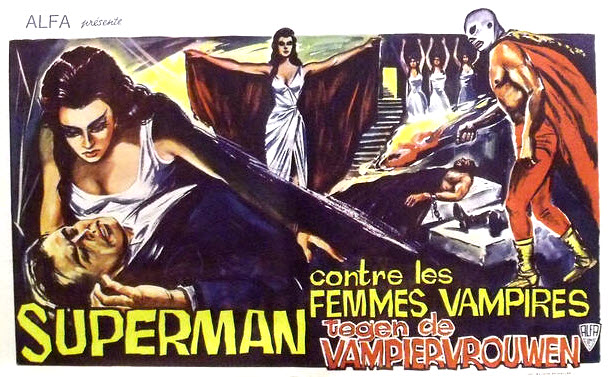 Igor kills a masked wrestler in his dressing room, and takes the man's place in a match with Santo. Santo unmasks Igor, revealing a hairy, werewolf-like face (which Igor never had before or after). The police and Santo pile on the vampire man, but he turns into a bat and flies away.
At the nightclub, Tundra and Zorina are spotted (Diana sees them in the mirror of her compact and their mummy-like faces give them away). In the confusion, the vampires still manage to kidnap Diana. Santo battles the rear guard--Taras and Marcus--and although Taras gets away, Marcus wanders into the shadow of a large stone cross and bursts into flames.
Orlof deciphers an ancient document that reveals the location of the vampires' lair and radios the information to Santo in his car. Santo goes in and is captured by the vampires (they pummel him repeatedly after he's tied to a table, possibly tenderizing him prior to biting him). Diana is also restrained, waiting for the fatal bites. However, the vampires waste valuable time trying to remove Santo's mask (why? who cares who he is NOW?) and the sun comes up. Since the vampires didn't think to put drapes on the windows of their dungeon, the sunlight streams in and catches Tundra, Igor, and Taras, burning them all up. Santo breaks free and torches the coffins of the other vampire women (including Zorina), who all scream in agony as they burn up. As Carlos, Orlof and Jorge arrive at the castle, they see Santo come out carrying Diana. He drives off in his Jaguar, alone.
A lot of fun, well-made and entertaining. Maybe not the best Santo film for Santo himself, but certainly worth watching.
Back to the Santo Filmography.
---
Santo vs. las lobas [Santo vs. the She Wolves]
(Estudios Jiménez Pons Hermanos, 1972) Exec Prod: Jaime Jiménez Pons; Dir: Jaime Jiménez Pons, Rubén Galindo; Scr: Ramón Obón, Jaime Jiménez Pons; Photo: Raúl Domínguez, Víctor Gaitán; Prod Mgr: Héctor Luna; Asst Dir: Javier Durán; Film Ed: no credit; Asst Camera: Armando Castillón, Rafael Chávez, Carlos Cuenca; Makeup: Irene Bustos, Antonio Ramírez; Sound: Francisco Guerrero, Eduardo Arjona; Union: STIC
CAST: Santo (Santo), Rodolfo de Anda (César Harker; Eric Harker), Gloria Mayo (Adriana), Jorge Rusek [sic] (Licán), Federico Falcón (Jaime Pons), Erika Carlson [sic] (young Luba), Nubia Marti (Eloísa), Carlos Suárez (Gitano), Rosa Furman (Ana), Bruno Rey (Capt. Pacheco), Tamara Garina (old Luba), Carlos Jordán (Dr. Jeremías Marcus), Emilia Carranza (Julieta), Roberto Meyer (Matías, stationmaster), Nora Wolf, Silvia Mowat, Marga Dunhill, Guillermo Ayala , Marileen Kaey [aka Marilyn Kay?], Patricia Borges, Luis Ruvalcaba, Leticia Ochoa, Manuel Moreno, Miguel Lara
Mexico City release: May 1976; 4 week run; Authorization: A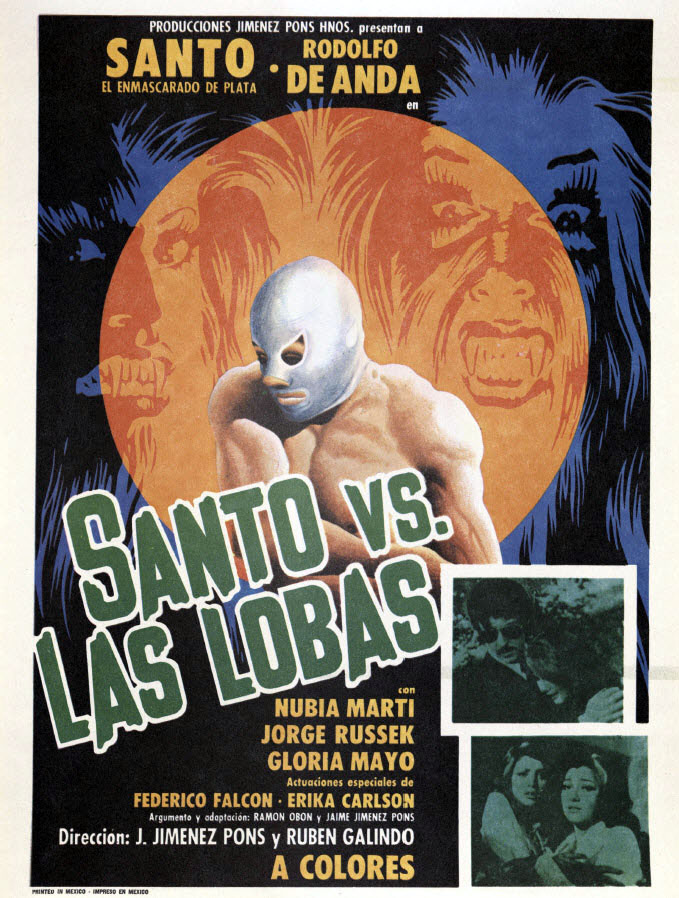 NOTES: Opinion is sharply divided on this film, with some giving it low marks and others considering it interesting and fairly well done within its limitations. I tend to fall into the second category, although I will acknowledge that Santo vs. las lobas has its weak points. It is possible that some of these resulted from problems during production: the fact that there are two credited directors and cinematographers, along with some continuity problems, suggest that parts of the film were made by different crews at different times.
Jaime Jiménez Pons--who had been a child actor nicknamed "Frijolito"--produced a number of films around this time that seem to have been made on the fringe of the industry, perhaps intended as TV pilots. These include Acapulco 12-22 (1971), Anónimo mortal, La maffia amarilla, and Noche de muerte (1972). Several of these were reportedly shot on 16mm and later blown up to 35mm for theatrical release (which didn't come until 1975-76), a tip-off that TV was their original destination.
Nonetheless, Santo vs. las lobas has a lot to recommend it, and it makes a sincere effort to establish an atmosphere conducive to a horror film, especially in the opening sequence. Later in the film, a meeting of the werewolves with their "king" is also staged and shot in an interesting manner. Even the low budget isn't that obvious: for example, while the film isn't as bright and (relatively) glossy as the Santo pictures made at the same time in the studio system, it does feature a decent number of extras, and some scenes are considerably more elaborate and busy than one would expect, notably the scene where the werewolves attack a station wagon full of children trying to flee the hacienda, and a werewolf-plagued dinner party.
The werewolf makeup varies: some performers have disheveled hair and look more like cavemen and women than werewolves, while others have a lot of facial hair and fangs, but not much body hair (the female werewolves wear fur bikinis, the male werewolves are bare-chested). Jorge Russek's makeup as Licán, king of the werewolves, is more extensive and detailed than most of the others.
As the film opens, a young blonde woman is drawn to an abandoned warehouse by a disembodied voice saying "Come...come..." She is confronted by a hairy old woman, who says she is Luba, queen of the werewolves. It is time for her to be reborn in a new body; then the werewolves ("licántropos") will destroy the human race and rule the earth. The blonde stabs old Luba and becomes queen; she is carried around joyfully by her subjects.
There is a nice matched cut from a werewolf howling over the body of old Luba to a screaming crowd watching Santo wrestle. After the match, the young Luba visits his dressing room, claiming she's a big fan and would "like to get to know him better" (wink, wink). Santo puts her off, and then gets another visitor: detective Jaime Pons, who says he was hired by the Harker family to contact him, concerning werewolves. Santo is dubious, but he accepts an envelope from Pons with instructions about meeting César Harker.
Later, as Santo starts to leave the darkened arena, he is pursued by several "wolves" (German shepherds, and in fact he refers to them as "dogs" himself). After a brief battle in the ring, Santo leaps up and hangs onto the light fixture, shouting for help! (This is sort of shocking--Santo can't defeat two wolves?) When the arena security guards arrive, the wolves are gone, and they think Santo has maybe taken a few too many kicks to the head in his career.
Meanwhile, Pons, on his way back to his hotel, is hailed by the bloody Luba. She gasps that she was attacked by werewolves. They go back to his room, where he gives her a drink. However, as they start to get "better acquainted," Luba turns into a werewolf (growing a blonde beard and fangs), chases Pons around, and eventually kills him.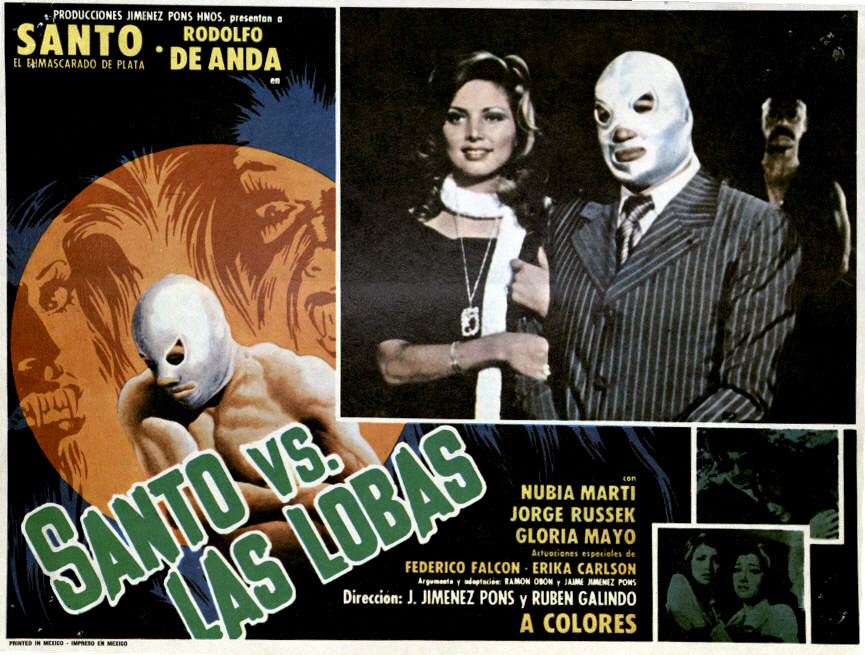 In his apartment, Santo is surprised when a wolf jumps out of the closet (a nice shock scene), but it promptly disappears. This makes him decide to follow up on the Harker connection. The next day, he meets César Harker at a hotel outside the city. As they speak, a young woman swimmer cries for help from the pool. César leaps in to save her, but she tries to drown him, so Santo has to jump in and knock her out. They drag her out of the pool, but she disappears when their backs are turned. Harker tells Santo that his family has battled the werewolf race for generations, but it is foretold than only a "silver symbol" can destroy them for good, and that means Santo.
Santo agrees to help, but first he has to participate in another wrestling match. While this is going on, César is slain by werewolf Luba on his hacienda. His workers pursue the wounded werewolf woman, and retrieve her body when she finally drops dead. Gypsy Ana tells Julieta, a neighbor of the Harkers, that the queen of the werewolves is dead; Julieta orders her daughters Adriana and Eloísa locked up.
Santo takes a train to the town near the Harker hacienda. The stationmaster shows him a big box that recently arrived from Transylvania--but it has no delivery address. Later that night, a band of werewolves steals the box from the station. They open it at a ceremony, revealing Licán, King of the Werewolves. He says the first order of business is to choose a new queen.
In a very strange scene, Santo and Gitano--the servant of Dr. Marcus, brother of Julieta--are chased away by the villagers for asking too many questions. The other odd thing--aside from seeing people throw stones and shoot at Santo!--is that there was no scene introducing Santo and Gitano, and in fact Santo does not even meet Marcus until the following sequence of César's funeral.
Present at the funeral are Eric Harker, César's twin brother, Marcus, Adriana, and Eloísa (who is Eric's fiancee). Eloísa tells Eric that she thinks she's a werewolf, since she remembers the death of the stationmaster when the box was stolen. Meanwhile, Marcus informs the local police (Bruno Rey, who shows up and then disappears for the rest of the film) that the werewolf woman who killed César had been dead for a month.
Licán visits Marcus, claiming that he is a scientist studying evolution. He invites everyone to a dinner party at his house; Marcus declines, but Santo, Eric, Gitano, Adriana, and Eloísa go. The party seems friendly, but after a while some of the guests turn into werewolves and attack everyone else! The protagonists make their escape. Back at the Marcus residence, Santo finds Marcus half-changed into a werewolf. He says his family is cursed, but he's a good werewolf. Santo--for some reason--will also change into a werewolf (according to Marcus) if he doesn't destroy Licán by the night of the Great Red Moon (which just happens to be the next night).
They prepare for an assault by the werewolves, handing out rifles to the workers (Santo reminds them to use silver bullets--sure, everybody's got a box of those in their house). They try to send the children away in a station wagon driven by Adriana, with Gitano riding shotgun, but the werewolves ambush the car with big rocks and flaming bundles of brush, forcing them back to the hacienda.
That night, the werewolves attack. Julieta turns into a werewolf and threatens Adriana and Eloísa, but Santo intervenes and kills her with a bodyslam. Santo: "She was the queen of the werewolves." He then takes off after the king, Licán, who runs a long way until Santo finally catches him and throws him off a cliff, just as the sun rises. The End.
Confusing as it is, Santo vs. las lobas is still entertaining and deserves credit for its attempts to be a "real" horror film (with a certain amount of gore, etc.), making it somewhat more adult in nature than many Santo vehicles. For instance, Santo y Blue Demon vs. Drácula y el Hombre Lobo, as good as it is (and it's one of my favorite Santo pictures), is still sort of a comic book-level horror film. Santo vs. las lobas is more of a "straight" horror film that just happens to star Santo.
The plot has its share of twists and turns. For example, it is hinted that Adriana or Eloísa is the next queen of the werewolves, but it turns out to be the invalid Julieta. Similarly, Marcus's transformation into a werewolf comes as a surprise, although he has been acting oddly prior to that point. Unfortunately, the continuity is choppy and whatever character development there might have been is largely dissipated by this. Santo suddenly develops a romantic interest in Adriana, with little or no prior warning. Luba (the young one) seems to have some potential as a villainous character, but she is unceremoniously killed (and it's never clear until afterwards that she is the "blonde werewolf" that killed César).
Santo vs. las lobas contains a number of elements which had been previously used (by scripter Ramón Obón) is La loba (1964): male and female werewolves, a mystery about which female character is the werewolf, and a muscular good-guy gypsy character (Crox Alvarado in the earlier film, Carlos Suárez here).
Despite these frustrating faults, Santo vs. las lobas is worth watching, just to see a different tone in a Santo film.