Santo contra los Jinetes del Terror
[Santo vs. the Riders of Terror]

(Cin. Calderón-Santo, 1970)
Prod: Guillermo Calderón Stell; Dir: René Cardona [Sr.]; Scr: René Cardona Sr., Jesús Velázquez Quintero; Story: J. Velázquez Q.; Photo: Raúl Martínez Solares; Music Dir: Gustavo César Carrión; Prod Mgr: Carlos Suárez; Prod Chief: Enrique Morfín; Asst Dir: Manuel Alcayde; Sub-Dir: Manuel Muñoz; Film Ed: Jorge Bustos; Art Dir: Alberto de Guevara; Decor: Carlos Arjona; Makeup: Felisa L. de Guevara; Sound Supv: James L. Fields; Dialog Rec: Eduardo Arjona; Re-rec: Galdino Samperio; Union: STPC; Eastmancolor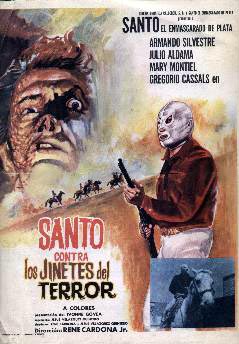 CAST: Santo (himself), Armando Silvestre (Darío), Julio Aldama (Camerino), Mary Montiel (Carmen), Gregorio Cassals [sic] (José), Ivonne Govea (Lupe), Carlos Agosti (Dr. Ramos), Carlos Suárez (henchman), Notanael León "Frankenstein", Gloria Chávez, Rubén Márquez (Carmen's father), René Barrera (henchman), Margarito Luna (settler), Victorio Blanco (old man in town), Regino Herrera (settler), Jesús Gómez (settler), Alfredo Gutiérrez and Armando Acosta (townspeople)
Mexico City release: December 1970; 3 week run; Authorization: A
Spanish release data: Authorization date: 28 August 1972; Total spectators: 235,847.

NOTES: This is really a straight Western, which would work equally as well if Santo had been replaced by "Mauricio Rosales, El Rayo," "Felipe Reyes, El Justiciero," or any other Western hero. Aside from this, the film is OK, nicely photographed and with--for once--some decent "monster" makeup. The author of the screen story, Jesús "Murciélago" Velázquez was a professional wrestler who had a second career as (primarily) a screenwriter. Among his earlier efforts is La sombra del murciélago, which also deals with disfigurement (borrowing heavily from The Phantom of the Opera).
A "nude scenes" version of this film, entitled Los leprosos y el sexo, was created for the export market (and apparently distributed in the USA in this form). Viviana García-Besné, who discovered El vampiro y el sexo in the vaults of Calderón films, also found a copy of this one...but it has not yet been released.
A small group of lepers, led by José, escape from a sanatorium run by Dr. Ramos (José later explains that they just wanted to die in "free air"). They rob several nearby farms, terrorizing the settlers, who demand that local lawman Darío do something. One of the biggest complainers is Camerino. However, Camerino actually has approached the lepers and offers to give them food, drink, and half of the booty if they help his gang carry out various robberies (Camerino: "They have a lot; we have a little; you have nothing."). The lepers agree.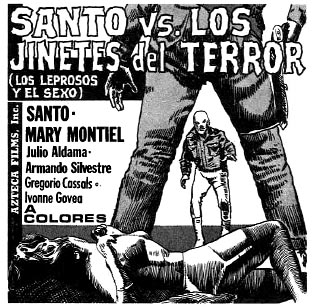 Darío calls on El Santo, famous crimefighter, to lend a hand. They set several traps for the criminals, but the gang always escapes. After one raid, José stops by the ranch where Lupe, his former girlfriend, lives. She says she has always been faithful to him, and José sadly tells her goodbye forever.
After another raid, Camerino kidnaps Carmen, Darío's girlfriend. The townspeople plan to attack the sanatorium and kill the other lepers, but Darío convinces them to wait until the next day. Santo discovers the gang's hideout: he defeats the crooks, and frees the lepers (who were going to be shot by their associates now that their usefulness had ended). Camerino is shot trying to escape. Santo tells the lepers that a new drug has been discovered which will allow them to lead normal lives; he then leaves town, to the cheers of the grateful populace.
Although the lepers in this film are exploited in the advertising as monster-like, the film itself goes out of its way to treat them compassionately. The good characters constantly say that the lepers are "unfortunate people," who are ill and are more to be pitied than hated or feared. The brief sub-plot with José (who has only one deformed hand and some scarring on one side of his face and neck), and one scene where another leper sadly sings a song are humanizing touches. Indeed, the footage with the lepers and Camerino's band dominates the film: Santo doesn't appear until more than 20 minutes have passed, and Armando Silvestre has very little to do as the nominal secondary hero, Darío (Carlos Agosti, cast against type as a sympathetic character, is also underused).
This should appeal to Western fans much more than it would to Santo fans. It is not as bizarre as Asesinos de Otros Mundos, but it isn't as boring as Santo vs. Cazadores de Cabezas, either.