Santo el Enmascarado de Plata vs. los villanos del ring
[Santo the Silver-Masked One vs. the Villains of the Ring]
(Prods. Cinematográficas, 1966)
Prod: Alfonso Rosas Priego; Dir: Alfredo B. Crevenna; Scr; Rafael García Travesí ;Story: R. García Travesí , Mario García Camberos; Photo: Jorge Stahl Jr.; Music: Antonio Díaz Conde; Prod Co-ord: Alfonso Rosas Priego Jr.; Prod Mgr: Mario García Camberos; Prod Chief: José Alcalde G.; Sub-Dir: Felipe Palomino; Film Ed: Alfredo Rosas Priego
CAST: Santo (himself), Wolf Ruvinskis (Rodolfo Labra), Silvia Fournier (Ma. Elena Ramos), Graciela Lara (Rebeca Ortega), Eduardo Bonada (Fernando), Jean Safont (Jean Safont), Beni Galán (Beni Galán); WRESTLERS: Dick Medrano, Ray Mendoza, Ham Lee, El Nazi; Ramiro Orci (henchman), Francisco Jambrina (don Francisco Iglesias), Consuelo Frank (Ma. Teresa Méndez viuda de Ramos), Carlos Nieto (doctor), Roberto Araya (?Sergio), Marco Antonio Arzate (henchman), Enrique Cárdenas, Rosa Furman (woman at seance), Pedro "Mago" Septien and Angel Fernández (announcers), "Picoro" (ring announcer), ?Ada Carrasco (makeup artist)
Mexico City release: January 1968; 1 week run; Authorization: A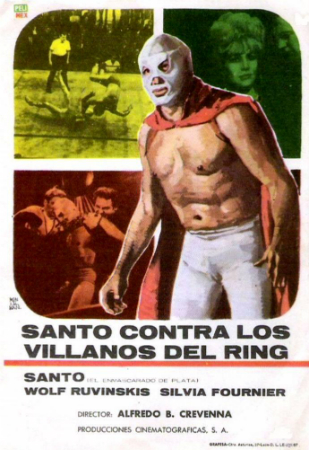 Spanish release data: Authorization date: 26 June 1967; Total spectators: 189,371.
NOTES: This film probably has more "action" than any other Santo film I've seen, and yet it is one of the more boring Santo adventures. Why? Because the "action" consists of long, clumsily-staged and photographed fights between anywhere from 5 to 10 people, with constant punching, falling, grunting, and staggering around, but no real resolution and no focus on anyone in particular (not even Santo!).
The trend is obvious from the beginning, as the opening arena bout between Santo and Espanto lasts nearly 10 minutes, followed by about 2 minutes of dialogue, then another fight (this one on the street) between Santo and 4 thugs (Wolf Ruvinskis and Eduardo Bonada join in after about 4 minutes). To be fair, the first bout does include a neat move by Santo--he is tossed out of the ring by Espanto, who kicks him whenever he tries to climb back in; so Santo leans over the ropes and head-butts Espanto, then does a front somersault over the ropes and lands on his opponent! Later in the film, masked wrestlers Gray Mask and Black Mask join Santo, Ruvinskis and Bonada, while the bad guys' gang is augmented by Beni Galan and a couple of non-wrestlers (stunt man Ramiro Orci holds his own in these battles, taking more realistic falls than any of the wrestlers), which only further clutters up the screen.
The plot, sandwiched in among these fights, concerns Santo's god-daughter Maria Elena (Silvia Fournier, looking considerably thinner than she had in the past, particularly facially), who inherits 6 million pesos from her grandmother (this was in the days when a peso was a peso!). Francisco Iglesias, the head of a mystic cult of spiritualists, stages a phony seance to convince Maria Elena to turn over half of her fortune to his group. Santo is apparently shot to death in a battle with the wrestlers in Iglesias' employ, and when Beni Galan poses as him in another faked seance, Santo bursts in and exposes the whole plot.
Wolf Ruvinskis is largely wasted as Fournier's fiance, and Eduardo Bonada--a real-life wrestler friend of Santo's--has even less to do. Bonada, ruggedly handsome, probably could have had an acting career of his own (if he could act, which is by no means obvious from his minimal footage here; his dialogue might have been dubbed). Quite disappointing overall.
Revised 19 January 2000. dwilt@umd.edu