Santo contra el Dr. Muerte
(Cinematográfica Pelimex**, 1973)
English-dubbed version: Masked Man Strikes Again (Santo vs. the Dr. Death)
Exec Prod: Joaquín Mortera Díaz; Prod: Manuel Torres; Dir: Rafael Romero Marchant; Scr: Rafael Romero Marchant, José Luis Navarro Basso; Photo: Godofredo García Segura; Asst Dir: Mariano Canales; Film Ed: Antonio Gimeno; Art Dir; Jaime P. Cubero; Camera Op: Domingo Solano; Makeup: Mariano García
**Spanish sources list Oro Films (Mexico) as co-producer
Mexico City release: November 1974; 1 week run; Authorization: A
Spanish release data (from Ministerio de Educación y Cultura database): "authorization date": 31 Oct 1973. Rating: for audiences 14 years of age and older, or minors accompanied by an adult. Total spectators: 314,313
CAST: Santo (himself), Carlos Romero Marchant (Paul), Helga Liné (Sara), Jorge Rigaud (Dr. Robert Mann), Antonio Pica (Peter), Mirta Miller (Susan), Maribel Hidalgo (Ester?), Frank Brana (henchman), Carlos Suárez (Santos' manager), Eduardo Calvo, Lorenzo Robledo, Eulalia del Pino, Betsabe Ruiz, Beny Deus, Mario Díaz, Emilio Espinosa, Mario Alex, Pablo Blanco, José M. Portillo, Simón Arriaga
NOTE: "Romero Marchant" is sometimes spelled "Romero-Marchent"
NOTES: This is a double rarity--a Santo film that was not made with at least a nominal Mexican presence (even the Santo films shot in Colombia, Ecuador, etc., usually had some cast and crew from Mexico--in Dr. Death, only Santo's real-life manager Carlos Suárez appears briefly), and one of only 4 Santo films (and the only color one) dubbed into English. Pelimex was a company that arranged for the distribution of Mexican films overseas, so it is possible that it was made to use up Spanish funds that couldn't be taken out of the country. The English-dubbing is another mystery of sorts: I have heard that it was done in Canada, and in fact the copy I have seen is from a Toronto TV broadcast.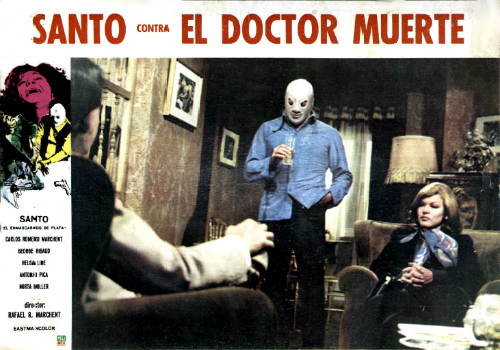 The film is not by any means bad: the action scenes are staged quite effectively, production values are fine, the other performers are good, and the plot (although far-fetched) is imaginative. Even the theme--typical 60s-70s action music--is fun. But while Santo contra el Dr. Muerte tries to maintain fidelity to the Santo mythos--he's shown wrestling twice in real arenas, and there is one staged bout as well--within the context of a European-style spy thriller, it just doesn't have the feel of a Mexican Santo picture. Santo could have easily been replaced by any other action star (masked or not), and in fact the entire middle section of the film concentrates on Mirta Miller as a female agent, only very briefly cutting away to Santo once or twice.
An intruder enters a Mexican art museum and, unseen by the guards, sprays a famous painting ("Los borrachos" by Velázquez) with a substance that, when the painting is uncrated back in Spain, has damaged the artwork. Famous art expert and restorer Dr. Mann is asked to work on restoring the canvas. However, Mann and his gang are behind the vandalism: using a process that involves tumors extracted from models held captive in his basement (!), Mann makes an exact copy of the painting and then "exposes" this fraud to the museum authorities. Thus, he gets to keep the original in his private collection.
Santo, famous masked wrestler and international secret agent, is asked to investigate the crime, since he's scheduled to wrestle in Spain anyway. He's teamed up with Paul, another Interpol agent, who proves his worth when the two men are attacked by assassins in Santo's hotel room. After an excellent brawl, Santo and Paul triumph. They investigate Dr. Mann (Santo: "Doctor of what?" Official: "Doctor of art. And I don't know what science."), but can prove nothing, although one of Mann's live-in models (Ester) tells Paul that each time a model finishes her work, she disappears and is never heard from again.
Interpol agent Susan is sent to Mann's castle, substituting for a real model. However, Susan and Ester are caught while snooping around Mann's laboratory, and they are tossed into the dungeon with the other captives. Santo and Paul break into the castle and, eluding the various death traps, free the models. Sara, Mann's assistant, falls into an acid bath used to dispose of dead bodies; Mann is captured. Santo pursues Peter, Mann's chief associate (who has been posing as a blind man). Peter tries to escape by motorboat, but Santo--dangling underneath a helicopter on a rope ladder--leaps into the boat. They fight, and Santo leaps overboard just before the craft smashes into the shore and explodes.
As noted above, the fights (not the arena bouts) and action sequences in Dr. Death are very good, with a lot of punching, kicking, body slams, broken furniture, athletic falls, and so forth. The final sequence isn't great, but it shows that the filmmakers were trying, and were willing to rent a helicopter and couple of speedboats to make the picture look reasonably slick.
Overall, an entertaining oddity, better than a number of Mexican-made Santos, but not as wild as the best (or worst).
---
Review by D. Wilt (dwilt@umd.edu). 15 December 1997
Back to the Santo Filmography.
UPDATE: 19 January 2000