Santo y Blue Demon contra los monstruos [Santo and Blue Demon versus the Monsters]
(Prods. Sotomayor, 1969) Exec Prod: Heberto Dávila Guajardo; Prod: Jesús Sotomayor Martínez; Dir: Gilberto Martínez Solares; Scr: Rafael García Travesí ; Story: Rafael García Travesí ; Photo: Raúl Martínez Solares; Music Dir: Gustavo C. Carreón [sic]; Supv: Miguel Sotomayor Martínez; Prod Mgr: Julio Guerrero Tello; Asst Dir: Mario Llorca; Film Ed: José Bustos; Decor: José Tirado; Camera Op: Cirilo Rodríguez; Lighting: Horacio Calvillo; Makeup: María del Castillo; Sound Supv: Jaime [sic] L. Fields; Sound Ed: Raúl Portillo; Dialog Rec: Javier Mateos; Sound Dir: Galdino Samperio; Union: STPC
CAST: Santo (himself), Blue Demon (himself), Alejandro Cruz (Blue Demon*), Jorge Radó (Otto Halder**), Carlos Ancira (Bruno Halder), Hedy Blue (Gloria Halder), Raúl Martínez Solares (boy whose parents are killed by werewolf), Adalberto Martínez "Resortes" (dancer in musical number), Rafael Muñoz "Santanon" (Waldo), Vicente Lara (wolfman), Manuel Leal (Franquestain [sic]), Gerardo Zepeda (cyclops; zombie), Fernando Rosales (the mummy), David Alvizu (the vampire), Elsa María Tako (Sonia, vampire woman), Yolanda Ponce (Fabiola, vampire woman), Carlos Corona (detective), Juan Garza (wrestler), Cavernario Galindo (zombie), Carlos Suárez (campesino victim of werewolf), Margarita Delgado (wife of campesino), Manuel "Gordo" Alvarado (wrestling impresario)
**[although the credits show "Halder," both Otto and Santo pronounce it "Hadler" during the film]
Mexico City release: May 1970; 6 week run; Authorization: A
NOTES: This is one of the better-known, non-dubbed Santo films, chiefly due to its "all-star" lineup of monsters (one of which--the Cyclops--was left over from La nave de los monstruos, a Sotomayor production made ten years earlier; a midget alien with an exposed brain also appears in both films, although its role in Santo y Blue Demon... is minimal). Along with Santo contra Blue Demon en la Atlantida--made just before this picture--Santo y Blue Demon contra los monstruos has the "mystery" credit, listing Alejandro Cruz (aka Black Shadow) "as" Blue Demon. Perhaps Cruz plays the evil duplicate Blue Demon, but I suppose it is possible that the real Blue Demon doesn't appear at all in these two pictures. OR, that the credits are just plain wrong. It should also be noted that the "guest appearance" of Adalberto Martínez "Resortes" is obviously footage shot for another film, since the color and film stock do not match the rest of the picture at all.
I suppose I should dislike this film more than I do. It isn't much good, but the filmmakers obviously tried to deliver on the promise of the title (although Blue Demon doesn't really get to be "versus" the monsters except at the very beginning and very end; the rest of the time, he is with the monsters against Santo!): there are numerous battles between Santo and all of the monsters, with very little plot to get in the way. So what if the fights are all inconclusive and clumsy, and so what if several of the monsters (notably the vampire man and the mummy) are played by skinny guys who don't hold up very well against Santo (the mummy does almost nothing; Frankenstein's monster is also mostly window-dressing; most of the action is handled by the wolfman, played by veteran Vicente Lara "Cacama," the Cyclops (Gerardo Zepeda in the suit), and Blue Demon). Santo y Blue Demon contra los monstruos isn't dull, at least.
It should be noted that a "nude scenes" version was made, presumably for export. A number of stills exist showing Santo in bed with a topless Hedy Blue, as well as nude scenes of the vampire women. The "nude version" is not currently known to exist.
The film begins with two wrestling matches: a female tag-team bout, then Blue Demon and Juan Garza face El Gigante Ebano and El Arabe. Santo looks on. Meanwhile, the corpse of mad scientist Bruno Halder is placed in a crypt; his brother Otto and Otto's daughter Gloria are the only mourners. As soon as everyone else leaves, the dwarf Waldo and three green-faced zombies break into the crypt and steal the body of their master. [Santo y Blue Demon contra los monstruos almost feels like a sequel, since there are frequent references to Bruno's previous encounter with Santo and Blue Demon, which resulted in his death, etc.]
Blue Demon advises Santo to stop worrying about Bruno and enjoy his vacation with Gloria; Blue himself departs for his holiday. However, as he drives along a deserted highway, he spots Waldo driving a horse-drawn wagon, with the body of Bruno and the zombies on board. Blue follows them to an old castle, and sneaks inside. Waldo uses Bruno's own equipment to revive the mad doctor from the dead. One of the zombies spots Blue Demon and knocks him out. Bruno makes a duplicate of the wrestler and sends him out, with the zombies, to kill Santo.
Santo stops his car in the middle of the highway to kiss Gloria. Apparently desiring more privacy, they pull into a wooded lane and make out some more. However, Blue Demon and the zombies appear. Santo is knocked out and tossed off a cliff; Blue and the zombies kidnap Gloria and speed off in a car. Santo, who didn't fall too far, gives chase in his fancy silver auto. Gloria manages to leap out of the zombies' car into Santo's.
Santo, Gloria and Otto Halder open Bruno's coffin: it's empty. "Perhaps your traditional rivalry provoked" Blue Demon into joining Bruno, Otto suggests. "We were only rivals in the ring, I can't find any logical explanation [for his actions]," Santo says. Meanwhile, Blue Demon, Waldo and the zombies are recruiting monsters for Bruno's gang: they collect a vampire man (with big ears), and a skinny, ferret-faced mummy. Bruno also has a cyclops, a wolfman, and the Frankenstein's monster (who appears to be wearing a commercial monster mask, with the added touch of a little moustache and goatee). They are all revived and sent out to kill people.
The Cyclops is an amphibious creature, killing a fisherman who is working on his nets. Santo skin-dives and spots the monster (whose eye lights up and swivels around) on the bottom of a lake, but their battle takes place on dry land. After a struggle, Santo rams a wooden stake into the monster's chest. [There is a quick cut to a scene where Halder operates on the monster, restoring it to life: no explanation is given as to how he got the body back.]
The Frankenstein's monster attacks a young couple who are having a picnic. He steps on the boy's face and carries off the girl. The werewolf kills a campesino and his wife. The vampire man bites a couple of young women who then join Bruno's team.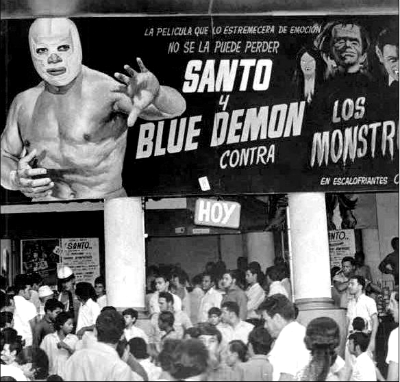 The monsters and Blue Demon attack Otto, Gloria and Santo in the Halder house. Gloria, dressed in her baby-doll pajamas, flees outside, but the vampire man is scared off by a large stone cross. Blue Demon gets a telepathic message from Bruno, ordering him to return to the castle.
Santo is pitted against a "foreign" wrestler called El Vampiro. Coincidentally, it is Bruno's vampire wearing a tiger-striped mask (in the ring, he's obviously impersonated by someone who isn't so slender). He starts to bite Santo but Gloria runs up to the ring and her golden crucifix makes him turn into a bat and fly away. The other monsters show up and a battle royal erupts in the ring; the spectators run out screaming; the lights go off. But once again, the monsters shuffle back to the castle, looking rather sheepish at the fact that they can't quite finish off Santo.
Later, Santo and his friends are in a restaurant (where they watch a stock footage musical number featuring Resortes). As soon as the floor show is over, the monsters attack again (nice of them to wait until Resortes finished). This time, they manage to kidnap Otto and Gloria. The prisoners are taken back to the castle where Bruno prepares to kill them. But Santo planted a bug on Frankenstein's monster; he arrives at the hideout, defeats the fake Blue Demon (he uses a spiked ball on a chain to whack him real good, then tosses the impostor off a cliff), and frees the friendly one. Together they wreck the lab, causing fires and explosions (the monsters at least put up a fight, but Bruno and Waldo huddle together nervously). Santo, Otto and Gloria escape as the castle goes up in flames.
The production values of Santo y Blue Demon contra los monstruos are fairly low, although all things are relative of course--at least the producers sprung for a few pieces of electronic equipment (which gets smashed up at the climax), and they went to the trouble of assembling quite a lineup of monsters, instead of just wrestlers with green faces (who do appear, but the monsters do most of the dirty work). However, the sets and locations are dull. As noted above, the action sequences are filmed in a slipshod, clumsy manner (with repeated cuts to a closeup of the Cyclops' head, as it roars and moves its eye from side to side). The day-for-night shooting is especially irksome. Interestingly enough, there is some mild gore, in the werewolf attack sequence and at the end, when Santo, Gloria, and Otto each stake one of the vampire trio. Carlos Ancira is good as the evil Bruno, while Jorge Rado and Hedy Blue are adequate.
Trivia notes: this film was a family affair for the Martínez Solares family--Gilberto directed it, his brother Raúl photographed it, and Raúl's son "Raulito" has a small acting role. Also of note: stunt man Manuel Leal, who plays the "Franquestain" monster here, later became a wrestler under the name "Tinieblas," and appeared in Santo's last two features as a villain.
Revised 6 Jan 99. dwilt@umd.edu