Santo contra la mafia del vicio [Santo vs. the Vice Mafia]
(Películas Latinoamericanas--Cin. Flama, 1970) Prod: Lic. Jorge García Besne; Dir: Federico Curiel; Scr: Fernando Osés, Lic. Jorge García Besne; Story: Fernando Osés; Photo: Alex Phillips; Music: Gustavo César Carrión; Prod Mgr: Luis Quintanilla; Prod Chief: José Alcalde G.; Asst Dir: Mario Llorca B.; Film Ed: José W. Bustos; Decor: Raúl Carrasco; Camera Op: Ernesto Urbano Vázquez, Carlos Montaño; Lighting: Luis García P.; Union: STPC
CAST: Santo (himself), Elsa Cárdenas (Elsa), Patricia Ferrer (Patricia), Dagoberto Rodríguez (Fidel), Fernando Osés (Sergio), Mabel Luna (Mabel Moon), Harry Gainer (Lt. Raúl Urrutia), César del Campo (Cmdte.), Víctor Junco (Dr. Moon), Jimmy Santy (singer), Carlos Suárez (henchman), Sonia Fuentes, María Fernanda (big blonde in Acapulco), Domingo Bazan, Rebelde Rojo, El Jaibo, Marco Antonio Arzate, Rolando Valentino, Mario Prado
Mexico City release: June 1971; 2 week run; Authorization: B
NOTES: At first glance this might seem to be one of the less-interesting Santo films, since it has no fantasy aspects (except for a couple of James Bond-like gadgets), and is basically a crime film. However, it has enough "bonuses" to make it worth watching, despite its lack of monsters.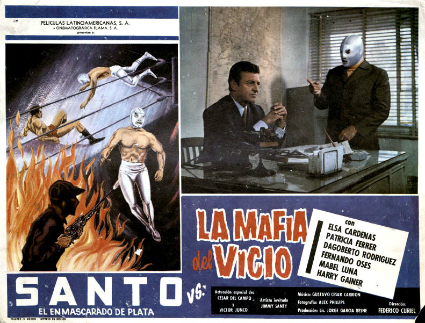 The film begins with a campy pre-credits sequence shot in Acapulco: Jimmy Santy sings a rather catchy tune as three women in bikinis gyrate while Santo (wearing bathing trunks himself) watches.
TRIVIA UPDATE (19 April 2004): Jimmy Santy (aka Santiago Rogelio Farfán Holguín) was a Peruvian pop singer who worked in Mexico from 1966 until the early '70s. He was the boyfriend of Mabel Luna, which probably explains his presence in this movie.
Back in Mexico City, the police commandante chews out his detectives for their failure to solve a rash of sabotage aimed at Mexican chemical plants. He sends Raúl to Acapulco to cut short Santo's vacation.
Meanwhile, mob lawyer Fidel receives a telegram: Mabel Moon is arriving in Mexico to visit her friend, dancer Patricia Ferrer. Fidel orders his henchman Sergio to kidnap Mabel. Fidel's girlfriend Elsa is curious but he keeps her in the dark.
Sergio tries to pick up Mabel at the nightclub where Patricia works, but she rebuffs him. As a result, Sergio and his thugs break into Patricia's apartment that night and abduct Mabel (leaving the babydoll-clad Patricia behind). Patricia goes to the police and meets Santo. They learn that Mabel's uncle is the rich owner of a chemical factory in the U.S.
Mabel is being held captive in Fidel's house, although she's allowed to lounge around the pool in a bikini. He tells her that her uncle will pay a large ransom for her safety. Meanwhile, Fidel offers to introduce Elsa to El Santo. Elsa: "The wrestling champion and Secret Service agent?" (so much for Santo's undercover work) They watch his match that night. Afterwards, Santo is attacked in his dressing room by Sergio and his men, posing as reporters and photographers.
Santo is taken back to Fidel's house and tossed into a cell in the basement. One of Sergio's men will impersonate the silver-masked man. However, Santo manages to switch places with his double, who is shot by Sergio and tossed into a furnace! Santo plays along, pretending he is a member of the gang.
Dr. Moon, Mabel's uncle, arrives. Unknown to her, he is in league with Fidel. For some reason, they decide that Patricia has to be killed. As several henchmen are planting a bomb in her dressing room, a black-hooded man enters and fights them. Patricia, who is having a conversation with Raúl--who has been assigned by Santo to guard her--is not in the room when the bomb explodes. Patricia and Raúl go back to her apartment--which she has modestly decorated with a giant blowup of her own face that takes up most of one entire wall--and spend the night together.
Later, Raúl drops Patricia off at his mother's house, to keep her safe. His mother says her husband, also a policeman, was killed on the job: "A medal and a grave, that's all he got for dedicating his life to fighting crime." She warns Patricia not to fall in love with Raúl.
Fidel and Dr. Moon want to recover a shipment of drugs that has been seized by the Mexican police, and this is why they have created a "fake" Santo. Meanwhile, Santo sneaks into Elsa's bedroom while she's out, and discovers her Interpol credentials. Later, after he's saved her from Sergio's lecherous advances, Elsa asks for her credentials back, and they clinch.
Sergio, Santo and the gang attack the police with gas bombs and steal back the drugs, before the police can burn them. The commandante suspects that Santo is crooked, but Raúl points out that the gas had been adulterated so it wasn't deadly, probably Santo's work. Santo contact Raúl by radio, informing him that Dr. Moon is the head of the organization, and that the drugs are going to be smuggled out of Mexico that night.
Santo, Elsa, and Mabel are trapped in the warehouse that contains the drugs; Fidel, Dr. Moon, Sergio and the rest of the gang try to kill them, but Raúl arrives to lend a hand, followed by more police. Dr. Moon is shot and killed; Elsa shoots Fidel, and the rest of the gang is captured or killed.
Elsa and Santo are enjoying some time off in Acapulco, when she receives orders to depart for Hong Kong. Their careers will always keep them apart. Santo seems a little depressed, until two buxom blondes in bikinis arrive to keep him company. The film ends with Santo and the blondes zipping around in a speedboat.
Santo vs. la mafia del vicio has a fairly straightforward plot, although the connection between the sabotage of Mexican factories, Dr. Moon's U.S. factory, and the intercepted drug shipment isn't clear. [As a point of information, "vicio" in Mexico normally has the connotation of drug or alcohol addiction, rather than generic "vice" as used in English, so this reinforces the narcotics aspect of the plot.] The kidnaping of Mabel is also rather pointless; she doesn't know anything, she doesn't have anything to DO with anything, and her uncle doesn't care about her (he says he'll kill her himself once the drugs are smuggled out of Mexico).
It's interesting to note that this picture was given a "B" rating when released ("A" films were for all audiences, "B" films were for "adolescents and adults," and "C" films were "adults only"). This might have been due to the drug-related plot, vague as it is, but there is also implied pre-marital sex (between Patricia and Raúl; heck, it's not only pre-marital, it occurs about an hour after they meet!), and blood "squibs" in several scenes (the murder of the fake Santo, the death of Dr. Moon). There's also one funny scene involving Santo: while he's searching Elsa's room, she comes back from a night out with Fidel. Santo hides, and watches as she undresses, then sneaks out when he thinks she's asleep. It's also strongly suggested that she knows he's watching! This voyeuristic-exhibitionistic sequence is pretty strange for a Santo picture. Elsa's undercover work for Interpol apparently required her to become Fidel's mistress, although this isn't clear (they live in the same house, but don't sleep in the same room).
The scene in which Raúl's mother warns Patricia against falling in love with a policeman is also odd (although it doesn't have anything to do with the "B" rating). Rather long and very dramatic, it's as if the writers wanted to give the actress who plays Raúl's mother (whom I can't identify) a juicy scene.
The cast is adequate. Mabel Luna is a little tough looking, but isn't averse to appearing in a very skimpy bikini; Patricia Ferrer, one of my favorites, has two dance numbers in which she gets to show off her lush body, but her role in the plot is pretty peripheral. Harry Gainer is a handsome guy who has a Spanish (I think) accent, and carries out his duties adequately. Rodríguez, Osés, Junco, and del Campo are satisfactory.
The photography and other technical aspects of the picture are OK, although the sets are relatively uninspired and the action sequences are also fairly mild. There are 4 musical numbers: the two dances by Ferrer, and two songs by Jimmy Santy, who really isn't bad. Trivia note: there are several montage scenes of Mexico City at night, showing Christmas lights (although nothing in the rest of the film suggests that this takes place at Christmastime). A theatre marquee featuring Olga Breeskin and Fernando Fernández can be glimpsed briefly.
Overall, a film with some interesting facets but a vanilla plot, little action, and no fantastic elements.
Review by dwilt@umd.edu, updated 16 April 2004.